Reading time:
11
minutes
Walking around or traveling with children may challenging if families have two and more kids. Best double strollers for twins or kids a year apart are totally worth considering in such a case. They are a perfect investment as they are designed to grow with your children and match lots of requirements modern parents may have.
Finding the best double stroller can completely change your life. Check out the features, specifications, advantages, and drawbacks of different types of strollers to have an opportunity to get the best one.
Side-by-Side Double Strollers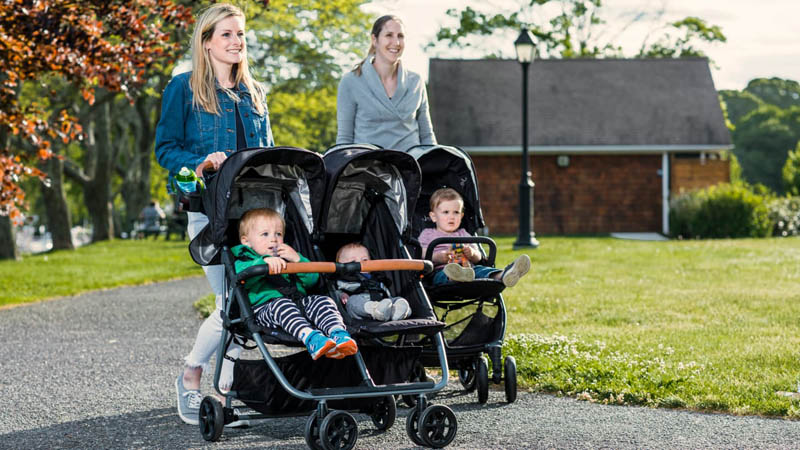 Also known as twin strollers, they have seats next to each other. Both children sit at the same level, and the seats usually have the same size. This type of double stroller for babies is quite popular among young families, as it is easy to maneuver and fits perfectly in the majority of car trunks. However, according to customers' reviews, there are some downsides you should consider before you buy one.
The Good:
Easy to maneuver;
Spacious;
Convenient to push;
Both children can enjoy the view of the world;
The weight limit is identical for both seats;
Quickly to fold.
The Not So Good:
Too wide to go through doorways and aisles;
Weight distribution is frequently uneven;
No travel system.
In-Line Double Strollers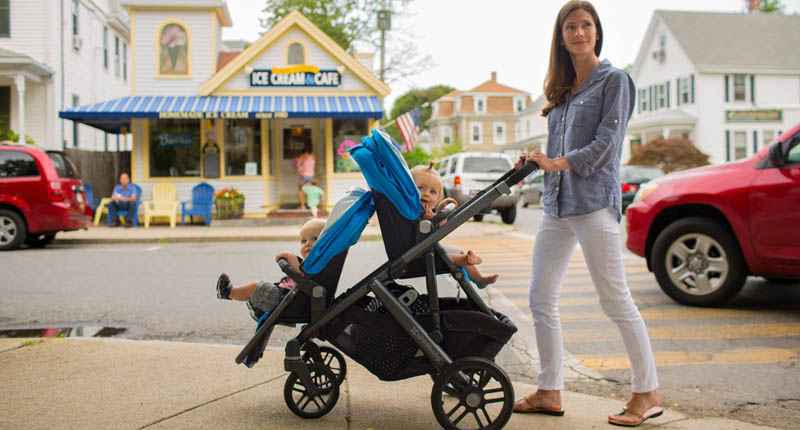 In-line or tandem strollers have two seats that are placed one behind the other. In most cases, the back seat is raised higher. They are much narrower than side-by-side strollers so that you should not worry about narrow doorways. Apart from different colors, styles, and extras, tandem strollers feature a range of other advantages and, of course, some minor drawbacks.
The Good:
Suitable for children of all ages;
Perfect for comfortable navigation and easy transportation;

Numerous seating options add to the overall convenience

.
The Not So Good:
May be difficult to steer;
Take much space, so may not fit smaller trunks;

Offer different views for children.
Convertible Strollers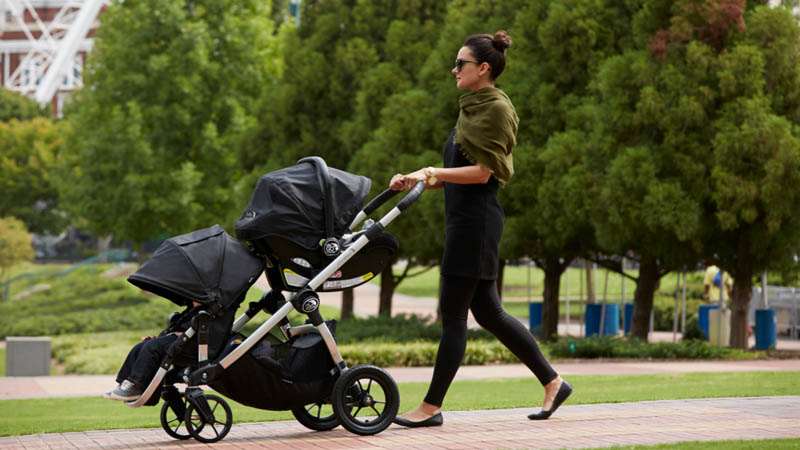 If there is a toddler in your family, and you are expecting another baby, it may be your top choice. Originally, it is a single stroller that can be easily transformed into a double or even triple one.
The Good:
Convenient for short walks;
Doesn't take much space;
Can be easily placed in the car;
Easily adjustable.
The Not So Good:
May be less convenient for one child;
Children will have completely different views;

Are less durable if compared to alternative options.
Additionally, it is indispensable to remember about different subtypes of strollers, which may also add to the quality and convenience of your rides.
Finding a comfortable, convenient, and reliable double stroller has always been one of the most daunting tasks. We have taken the liberty to test a range of double buggies and see whether they match such characteristics as stability, ease of use, convenience and comfort for babies, maneuverability, storage space, etc. to provide you with our expert list of 8 best double strollers 2022 that will not leave you indifferent.
Best Double Strollers of 2022
#1. Baby Jogger City Mini 2 – Best Double Stroller Overall
Baby Jogger City Mini 2 may be an excellent option for those searching for a comfortable, compact, and durable double stroller. It is one of the most popular and best-selling items in 2022. Unique maneuverability, excellent portability, and simplicity of use make it highly valued among customers. Kids also love it since both of them can recline as much as they need and still feel comfortable. With the help of an adjustable footrest, twins can easily stretch out and relish the stroller naps.
An updated design contributes to nimbleness, while new accessories add to the functionality.
The City Mini 2 Double Stroller is still 29.75″ wide so that it can get through the standard door frame. Weighing 31.8 lbs, the stroller is firm and reliable enough to hold babies up to 50 lbs each.
Baby Jogger City Mini 2 Double Stroller is compatible with numerous car seat brands but it can also be used separately, without any extra equipment. The Baby Jogger products are appreciated for their fast and easy folding. However, it is inevitable to mind that the stroller doesn't stand on its own when folded.
The City Mini 2 canopies seem to be the biggest on the market. They are amazing protecting kids from the sun, wind, and rain.
The Good:
Highly protective canopies;
Durable parts and accessories;
Excellent maneuverability;
Firm and reliable.
The Not So Good:
Can't stand when folded;
Is a bit too heavy.
---

#2. Graco Modes Duo – Best Convertible Double Stroller
This highly versatile, comfortable, and reliable stroller with 27 riding options is suitable for kids of different ages. It is truly a gem for a growing family. The Graco Modes Duo double stroller is equipped with a standing platform and bench seat for the older child. Additionally, two reclining and removable seats allow easy customization of the item.
Graco Modes Duo double stroller is commonly associated with comfort for both parents and children. Its locking front swivel wheels and one-step brakes add to the maneuverability of the item on various surfaces. A cup holder for parents and a huge storage basket guarantee maximum convenience.
The harness can be easily adjusted from 3 to 5 points, which means the stroller can grow together with your child. Excellent stroller height of 45 in and weight equal to 42 lbs meet Disney size requirements, which is crucial for families that enjoy traveling, making it the best Disney double stroller. The Graco Modes Duo seats hold up to 100 lbs and are aimed at comfortable strolling with two children.
All the accessories, including the seat pads, harness, body support, and hard goods, are easy to clean so that it will not take much time for parents to keep the item neat. This compact-size and comparatively lightweight double stroller helps big families be highly flexible and agile.
The Good:
Various riding positions;
Easy-to-fold;
Large storage space;
Affordable.
The Not So Good:
Is not suitable for toddlers over 50 pounds;
Somewhat heavy and bulky.
---
#3. Delta Children LX Side by Side Tandem – Best Double Umbrella Stroller
Comfort and style are the two words that can describe the Delta Children LX Side by Side Tandem umbrella stroller best of all. The item is available in eight different colors so that families can enjoy delightful daily walks. The stroller is designed to accommodate children up to 35 lbs each, which is perfect for families who have twins or kids with a little age difference. However, those who have children over 3-4 years old will have to search for alternative options.
Generally, the stroller has a variety of functions and features that provide its users with maximum comfort. A big storage bag, a convenient parent cup holder, and a 5-point harness will make your walks even safer and more convenient.
Traditionally, lightweight and compact Delta Children LX Side by Side Tandem umbrella stroller meets Disney size requirements. The stroller can be easily carried around as it weighs only 18.3 lbs.
Families who use the item are not afraid of the burning sun, mild wind, and rain. A large canopy will protect the kid from unfavorable weather conditions. Large 6″ wheels will help you keep going, irrespective of the surface.
The Good:
Lightweight frame;
Excellent maneuverability;
Comfy padded seats and handles;
Easy-to-clean;
Big storage space.
The Not So Good:
Limited features;
Some parts may be of poor quality.
---
#4. Mountain Buggy Nano Duo – Best Double Stroller for Twins
Mountain Buggy is a company that is known for the production of high-quality and durable items for children. Years of experience on the market have helped the team of professionals design a lightweight, comfortable, and exceptionally compact double stroller. It is a top choice for families who do not have much storing space, as well as the ones who want to enjoy daily walks with their kids.
The stroller is perfect for slow-paced city life. It features comfortable seats and big canopies that will help your child enjoy every single walk. As for parents, they are likely to have problems when folding and unfolding the stroller. The item is not compatible with the travel system, which is a significant downside for adventurous families. This 19 lbs stroller struggles off-road, which is exceptionally noticeable with older kids. However, you may still relish lovely and comfortable walks with newborns.
Mountain Buggy Nano Duo is quite an affordable stroller with a range of advantageous features. A large storage tray, strong wheels, excellent fabrics, and big canopies make the option worth the price. Both soft and firm details make this stroller durable.
The Good:
Slim fold;
Lightweight and convenient;
Big storage basket;
Nap friendly.
The Not So Good:
Low weight limit;
Stair unfriendly.
---
#5. Joovy Scooter X2 – Best Double Stroller for Toddlers
Joovy Scooter X2 double stroller is commonly known as a door-friendly item being the most narrow double stroller of all the others in our list. While a considerable number of families struggle to enter different buildings, others take maximum advantage of a comparatively narrow but comfortable stroller. This double stroller features a total capacity of 90 lbs which makes it suitable for both siblings and twins.
Compact design, in-seat storage, removable bumper bar, and quick one-hand fold, as well as a variety of other options make the stroller convenient, comfortable, and travel-friendly.
A large canopy provides the necessary sun protection in the summer, while a rain cover helps your kids stay dry during autumn walks. At the same time, a peek-a-boo window will help you keep an eye on your children and make sure they are safe and comfortable.
Like other companies striving to make every family walk unforgettable, Joovy Scooter has equipped the stroller with an extra large basket, which will help parents have everything necessary right at hand. Additionally, strong wheels and tough tires guarantee smooth rides on plain surfaces, bumpy roads, and dirt paths. However, if you prefer car tours with your kids, you should mind that Joovy Scooter X2 double stroller isn't compatible with any car seats.
The Good:
Can fit through most doorways;
Big storage basket;
Easy to push and fold;
Large canopy.
The Not So Good:
Difficult to push on the grass;
Is inconvenient for tall people;
Isn't compatible with car seats.
---
#6. Graco DuoGlider – Best Budget Double Stroller
Enjoyable adventures with kids are real with a convenient, comfortable and inexpensive double stroller by Graco. This model features stadium-style seating that provides children with a better view. Adjustable canopies, multi-position recline, child's trays, and individual footrests help both passengers stay comfy during walks. At the same time, a large storage basket, cup holder, extra tray, and one-hand fold will make the use of the stroller convenient for parents.
Graco has designed the best double stroller that accepts two infant car seats for those families who enjoy car rides. Additionally, the stroller can be folded and transported easily in a medium-size trunk. The item weighs 29.5 lbs but it still meets Disney size requirements.
Although the Graco DueGlider double stroller seems to be a relatively affordable, durable, and helpful model, parents mention some downsides that can affect the quality of its use. First of all, the stroller's rear seat has two positions: all the way up and fully reclined, which can be inconvenient for both parents and children. Additionally, many parents claim that the stroller is quite bulky and heavy.
The Good:
Excellent stadium-style seating;
Removable canopies;
Individual footrests for each kid;
A tray and cup holder for parents.
The Not So Good:
Quite heavy;
Limited ride positions.
---
#7. BOB Gear Revolution Flex 3.0 Duallie – Best Double Jogging Stroller
As the name implies, this BOB Gear Revolution is a top choice for active families as it is quite an easy-to-push double stroller. Walks with siblings or twins have become much more convenient thanks to the ultimate maneuverability, high-quality air-filled tires, and excellent suspension system. With an adjustable handlebar, the BOB Gear Revolution Flex 3.0 Duallie stroller fits parents of different heights, thus, being the best double stroller for tall parents. A large basket underneath the stroller and ten storage pockets add to the parents' convenience.
Irrespective of its lightweight aluminum frame and a variety of other top-quality details, the stroller is quite heavy and weighs 33.1 lbs. With the two-step fold feature and fast-to-remove tires, it can be easily transported. This double jogging stroller is compatible with a variety of car seats, including the ones offered by Chicco, Britax, and Graco.
The seats of the stroller support kids up to 50 lbs each. They are designed with a special padding for comfortable daily rides. Additionally, the stroller has independent reclining seats and a 100% water-resistant canopy that can protect children from rain, sun, wind, and other unfavorable weather conditions.
The Good:
Convenient for various rides;
Air-filled tires;
Unique suspension system;
Adjustable handlebar.
The Not So Good:
Heavy and bulky;
May not fit in small trunks.
---
#8. Baby Trend Sit N Stand Ultra Stroller – Best Double Side-by-Side Stroller for Infants and Toddlers
If you strive to keep your daily adventures with twins or siblings safe and comfortable, Sit N Stand Ultra Stroller by Baby Trend may be the option for you to consider. The stroller has a few riding positions that allow kids to sit or stand along the trip. Additionally, the item includes a five-point harness, which contributes to the maximum safety of every walk.
No matter if you are walking, shopping or just exploring different places in your city, this ultimately maneuverable stroller seems to be a suitable pick. A removable canopy seat provides extra shade, inevitable for sunny days. However, it can be quickly taken off so that the child could stand and enjoy the views. There are also two trays with separate cup holders that make the rides even more comfortable.
Irrespective of a comparatively big weight (26.8 lbs), the stroller is exceptionally easy to use and transport, which makes it one of the best double strollers for travel. It is compatible with Baby Trend car seats and several other car seat models of different brands.
The stroller hosts children up to 50 lbs each, which allows older kids to join the team. Generally, parents are satisfied with the flexibility, maneuverability, and convenience of this stroller, though some of them mention that it can sometimes be hard to push.
The Good:
Numerous riding positions;
Maximum safety with five-point harness;
Maneuverability;
High-quality, protective canopy;
Is compatible with different car seat brands;
Easy-to-fold.
The Not So Good:
Restricted access to the storage space;
No pads on the harness;
Front wheels make folding a challenge

.
---
How to Choose the Best Double Stroller
No matter if you are choosing the best infant car seat or the best double buggy, the modern market offers an unlimited assortment. On the one hand, the more options you have, the more demanding you can be. On the other hand, it is quite challenging to find a worthy item which will be convenient, durable, and affordable at the same time.
If you have a hard time trying to make the right choice picking among the best double strollers for twins or siblings, here are several crucial factors that can help you:
Lifestyle. Your daily routine will never be the same but you should do everything possible to keep things comfortable. Think about the places you plan to go with your children and opt for the corresponding variant. For instance, if you live away from the city, you will have to load the stroller into the car trunk often. Therefore, you'd better search for lightweight, compact, and easy-to-fold double strollers compatible with car seats.
The storage space you have. If you live in a spacious house, you can skip this. However, if your space is limited, you have to be attentive to the dimensions of the stroller.
Age, weight, and height of your kids. All the strollers have weight and height restrictions so it is inevitable to consider these factors, as your aim is to choose and buy the best double stroller for your twins or siblings.
Size of your trunk. If you want to remain flexible and active throughout the day, you need to care for an easily folded and compact double stroller that will fit in your trunk.
Durability of the stroller. No matter if you are looking for a comfortable double stroller for siblings or twins, you surely want it to be reliable. Focus on models made from high-quality materials and equipped with robust elements.
Individual preferences. The color, design, and other specifications are essential for mothers, who are likely to spend more time strolling.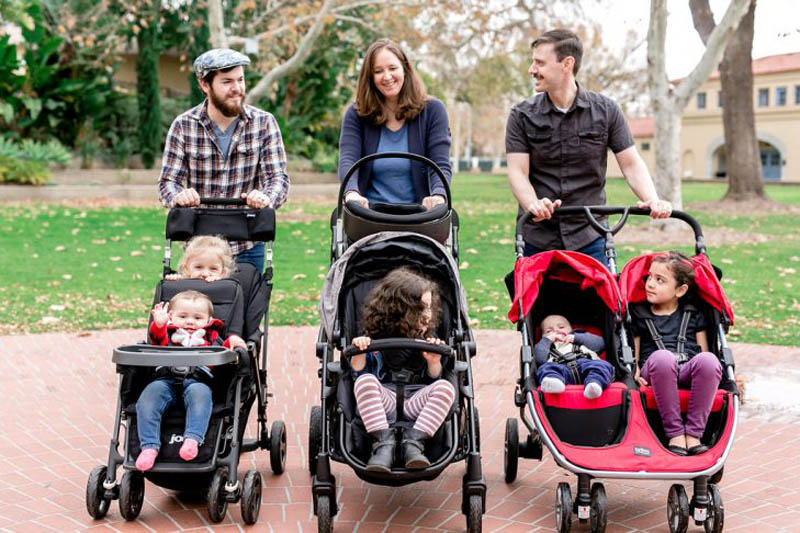 FAQ
What type of stroller is more beneficial?
Choosing between different types of strollers is always hard. Nonetheless, the choice is still yours. Learn the specifications of each option and buy the best double stroller that fits your lifestyle.
Is it inevitable to get a durable stroller?
There is hardly any customer who enjoys shopping for a brand-new stroller every single year. Therefore, it is crucial to search for a reliable and long-lasting model. However, it is also critical to remember that you will not use it lifelong. Focus on convenience, comfortability, and affordability of the double stroller.
How can I make the right choice?
The modern market is flooded with double strollers, so it may be quite complicated to opt for the best double stroller. However, you shouldn't focus on the most advantageous option, but rather choose a suitable one. Consider the age, weight, and height of your children, your lifestyle, and personal preferences, and select the best twin stroller.