Reading time:
11
minutes
It can be so challenging to choose the first and best baby stroller to keep your baby comfortable, safe, and secure as there are so many products available that one's head can start spinning. Pushchairs, prams, newborn strollers, buggies… So, let's start!
Carriers for newborns can be divided into several categories, and to choose the perfect product, you'll have to rely on your baby's age:
Traditional "lie-flat" newborn pram. These are the best strollers for newborn. It differs from strollers and upright pushchairs in many categories. Experts say that it's best when a baby lies in a pram for breathing, lung, and spinal development. However, many prams and pushchairs are adjustive and 2-in-1, which means they can be converted into a reclining seat when your child is old enough to sit upright.
Travel system. The best baby travel system is all-in-one with a variety of great and useful functions. They include a carrycot and a car seat which can be easily clicked in and out of the pram whenever necessary. Most parents consider this option when they are looking to buy the best newborn strollers because these make it easier to transport and carry a sleeping baby.
All-purpose strollers, i.e. small and light travel strollers that can be easily folded and unfolded. These models are meant to be used for toddlers and are perfect for trips with your child around the city or to another place. But you can also find some that may suit an infant.
Strollers for jogging are designed for active parents who are willing to burn calories and get some exercise while walking with their babies. Moreover, experts say that fast walking or running with a jogger helps prevent and deal with postpartum depression. Take a look at such amazing new-generation running strollers as the BOB Revolution Pro, the Bugaboo Runner, and the Baby Jogger Summit.
Best double strollers can accommodate two children at once and come in two configurations: side-by-side and front-to-back.
Convertible strollers. These can be converted from a single into a double stroller and are a great choice for children born a year apart.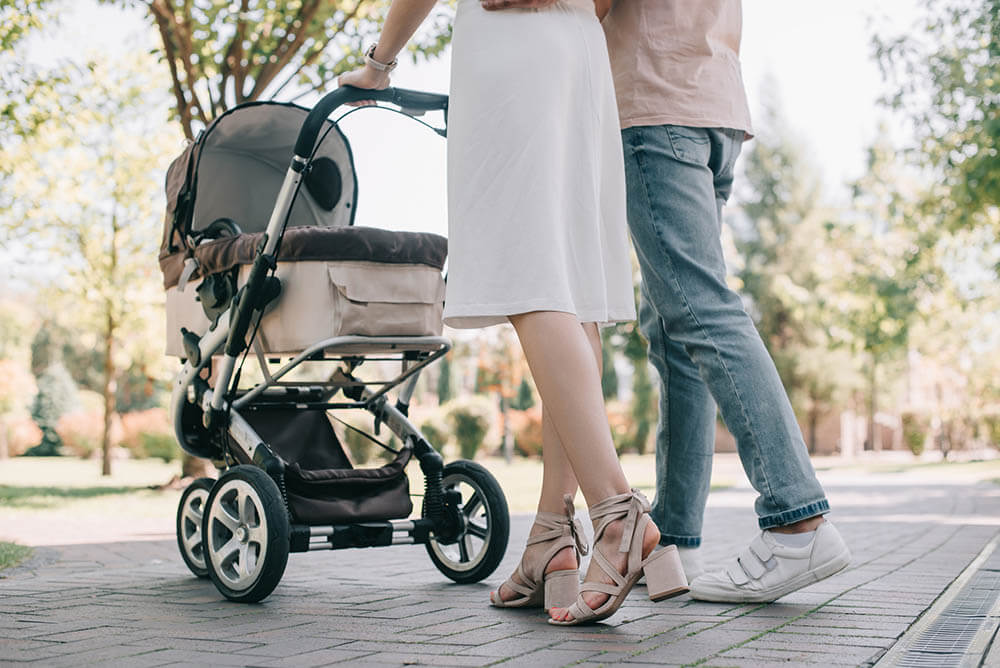 Surely the choice depends on the environment you are going to place the stroller in: the busy streets of a city or the calm and peaceful lanes of the countryside. Families expecting twins can look for double buggies, and parents who already have a small kid and are giving birth to another one in the nearest future, or just planning, may be interested in the Bugaboo Donkey Mono which can be converted into a double stroller using an extension set.
Didn't think there would be so much to research? Actually, we at Caring Parents' Choice have done everything for you. We've consulted pediatricians, talked with parents, made our analysis, tested some of the best prams ourselves, and are ready to give you a free choice. Just look through our list of the best newborn baby strollers and prams, read our guide on how to choose the best stroller for baby, and make your final choice.
---
Top 2 Best Strollers for Newborns
#1. UPPAbaby VISTA – Best Pram for Newborn
The UPPAbaby VISTA is a versatile baby stroller as it fits babies of all ages from newborn to toddler. Moreover, it can convert into a double buggy with the help of adaptors and carry twins, a toddler and baby, and even three kids thanks to a piggy backboard. Unlike its competitors, this stroller allows kids to face outwards providing a good view for both.
The UPPAbaby VISTA is very easy to push and turn. The frame is practically scratch resistant and matt. The bassinet has a vented base, a perforated mattress pad, and is fully breathable. The canopy is large enough to protect the child from UV, and there is a large basket for toys, other baby stuff, and even groceries.
The stroller performs amazingly on all types of roads, surfaces, and hills. Of course, you'll feel the bumps, pebbles if any on the road and grass because its suspension differs from the running buggy, but it is much better if compared to other models. What concerns the use in the city, we can emphasize its dimensions as it is pretty narrow and doesn't take too much space in public transit, its ease of use, and maneuverability.
The UPPAbaby VISTA can be used from birth with an infant car seat or a carrycot. It is actually of a 3-in-1 design. The bassinet (which, by the way, is detached with one move) can be utilized as a separate crib when staying out. The toddler seat can be used for infants from the age of three months and older. The limit of this stroller is 15 kg so there's lots of room for a growing child. In case you're willing to customize the Vista, you can purchase great add-ons that will make your life easier: UPPAbaby Bassinet, UPPAbaby Snack Tray, UPPAbaby Cupholder, UPPAbaby Basket Cover for Vista, and UPPAbaby Carry-All Parent Organizer.
The Good:
Easy reclining mechanism;
Three adjustment heights for the 5-point harness;
Adjustable footrest;
Can be used for one and two children of one-two years apart;
Large storage basket;
Lots of configuration options.
The Not So Good:
Pretty heavy if compared to other models.
---
#2. Hot Mom Baby Carriage – Best Luxury Newborn Stroller
This Hot Mom model is a 2-in-1 travel system that comes with two seats that are interchangeable: the bassinet and the egg-shaped standard seat. It isn't supplied with the car seat though but is compatible with some car seat models like the Maxi Cosi City and the Maxi Cosi CabrioFix using an adapter.
What we liked about this stroller is its function of 360-degree rotation. The seat or bassinet can be spun in any direction you feel comfortable for you, and this function is of great use. The steel frame of the stroller is very sturdy and the wheels have a suspension that makes it convenient to travel on uneven surfaces. The stroller has a huge storage tray basket underneath which can host pretty big items.
It is supplied with a soft insert and padded straps for the better comfort of your baby. For parents' comfort, it is supplied with adjustable handles and height which makes it the best stroller for tall people. The special shape of the seat is designed to avoid rolling over and falling out.
The Good:
5-point adjustable harness;
36o-degree rotation;
Wrist strap to keep the stroller near you;
Very easy to fold;
Great fashionable design.
The Not So Good:
The car seat has to be purchased separately.
---
Top 9 Best Baby Strollers for Everyday Use
#1. Britax B-Lively – Best Easy-to-Use Stroller
The Britax B-Lively is one of the best baby strollers 2022 of this famous brand being a full-features, compact, three-wheeled stroller but not so lightweight (20 lbs) stroller. The seat can fully recline and has lots of space for the head and legs which is especially beneficial for taller or older children. The 5-point harness can be adjusted following the child's growth, however, some parents said that they lacked a crotch pad for a more comfortable ride.
There is a great built-in zippered organizer with enough space for other stuff, e.g. cell phone, keys, and even bottles. The storage basket is one of those cool features of this stroller as it can be accessed easily no matter where you stand, and there also is a small additional compartment by the child's legs. The fold is as easy and intuitive as… taking candy from a baby.
The stroller has all-wheel suspension, however, it may be a bit tough to ride on other surfaces than smooth pavement. But the B-Lively is presented not as an all-terrain stroller, so it would be unfair to judge it only by this feature.
The B-Lively is compatible only with those infant car seats that have the same brand which isn't a problem as Britax offers one of the safest and most quality baby car seats. So if Britax stroller is your final choice, you'll probably have to think of buying their car seat, or vice versa.
The Good:
Easy car seat connection with Click&Go system;
Infinite recline;
All-wheel suspension;
Front access to storage basket;
Lightweight;
Push-on LATCH connectors;
Big canopy.
The Not So Good:
No snack tray and cupholder (but you can buy them separately).
---
#2. Baby Jogger City Mini 2 – Best Urban Stroller
The City Mini 2 is an updated version of the City Mini version which was also a good option due to its sporty and sleek design and compact and easy-to-fold features. And the new stroller can boast of new fabrics, a sleeker frame, and excellent colors. The manufacturer also added calf support for taller kids. This didn't make the model lighter (18.4 lbs), however, parents still appreciate its functions.
There's one lift of your arm, and you will get a neatly and flatly folded stroller that can be carried using a strap. The City Mini 2 can be controlled by one hand thanks to a pivoting front wheel. All-wheel suspension and rubber tires give a more comfortable feel when you ride over curbs and bumps, while to manage rougher surfaces, the front wheel can be locked.
To host a sleeping kid, the seat can lie flat and can then be easily changed into an upright position, though, it isn't 100% 'upright', as in many other 3-wheel strollers. Calf support can be raised and lowered for the comfort of your child. The seat is padded, roomy, and pretty comfortable.
Baby Jogger is compatible with many car seats using special adapters, including ones for Maxi-Cosi, Peg Perego, Graco, Cybex, UPPAbaby, Chicco KeyFit 30, Britax/BOB, Nuna, and the Clek. If you really like the brand, you create a travel system or buy a pram for an infant (which is sold separately).
The Good:
Great all-wheel suspension;
Easy to fold and unfold;
Compact and lightweight;
Calf support;
Compatible with a plethora of car seats.
The Not So Good:
No parent console (but it can be bought separately).
---
#3. Thule Spring Stroller – Best-Value Stroller
An all-new Thule Spring stroller is a long-awaited model that is 30% smaller than other three-wheel strollers featuring a self-standing capability and compact fold. Its dimensions and light weight allow for perfect storage and easy strolling.
The Spring can be folded with one hand and takes up too little space which makes it a perfect stroller to travel around the city. The stroller will fit the baby from approximately 6 months old and until they reach the weight of 65 lbs.
A padded seat has a 5-point harness that is quite easy to undo for a parent and difficult to cope with for a child. There is also a padded but not adjustable leg rest that slopes down to a narrow footrest. A deep recline of the seat allows a child to get that quality nap in the stroller while feeling comfortable. An adjustable and telescoping handlebar can suit people of various height by mere pushing a button at its center.
The Thule Spring has a spacious oversize canopy for a growing kid with an extendable sunshade that provides protection from wind and low sun. The vented window keeps the kid cool and can serve as a peek-a-boo window for a parent to watch the child from backward. The storage basket has a capacity of 21 liters, so you can put a whole bag of groceries down there and walk in the park for as long as you wish.
The Good:
Easy to fold;
5-point harness for a safe ride;
1-hand adjustable sliding handlebar;
Front-wheel suspension and fixed position lock;
Deep recline of the seat;
Step-in footrest;
Large storage basket.
The Not So Good:
Wheels not great for sand and bumpy trails.
---
#5. Graco Modes Stroller – Best Lightweight Stroller
In case you are in search of a perfect universal stroller that will suit the needs of your child from newborn to toddler age, the reliable Graco Modes is what you will definitely appreciate. The 5-point harness can be adjusted to fit the height of your baby, and there are three leg rest positions for bigger comfort.
The Graco Modes is a 3-in-1 stroller. When your baby is a newborn, the Click Connect can be inserted into an infant car seat. As he/she grows, the seat reclines and the leg rest folds up to ensure better security of your baby inside the stroller. Later, the seat can be adjusted to suit the height of the toddler and the leg rest can be dropped down. Also, the seat is reversible so it is possible for a baby to both see mom and face the world. The canopy is large enough to provide full shade, and the small peek-a-boo window allows air in.
Another great feature is the availability of such important accessories as removable armrests and child's tray that makes it possible to easily get the baby in and out. The parent's tray and 2 cupholders just add to the comfort and ease of use.
The Graco Modes is compatible with all the Graco Click Connect baby car seats and can be attached in one step.
The Good:
4 reclining positions;
Lightweight;
Easy to fold and unfold;
Easy to maneuver;
Baby can face forward;
Comes with a handful of accessories, such as a child's tray, cupholders.
The Not So Good:
Plastic wheels may be too sturdy and not suitable for bumpy roads.
---
#6. UPPAbaby Cruz V2 Stroller – Best High-End Stroller
The UPPAbabyCruz V2 is an upgraded version that has anything parents would ever wish to see in a stroller. It grew bigger in such features as storage basket and wheels and has become even smaller when folded.
The seat is pretty spacious for kids starting at age 3 months until they reach the weight of 50 lbs. The stroller has a high seat back which is great for tall children. Legs are comfortably rested on an adjustable leg rest which comes with a special bar for little feet. The recline can be adjusted with a single move. The great news is that the Cruz V2 has become even more compact if compared with its predecessor, as it's 4 in shorter when folded.
Though the UPPAbabyCruz V2 isn't an all-terrain model, it still offers a perfect cushioned ride thanks to soft and big wheels and all-wheel suspension. Your child can have their on-the-go naps comfortably, without being disturbed by a bumpy road. The canopy is a bit extended providing protection from the sun and has a convenient peek-a-boo window that allows more airflow. The telescoping handlebar retracts and extends in no time, which is a great fit for parents of different height and is made from breathable leather. The basket underneath is spacious enough to hold a heavy bag of groceries there.
This stroller is compatible with a number of baby car seats, such as Maxi-Cosi, Chicco, Cybex, and Nuna with a special adapter that can be bought separately. And certainly, the UPPAbaby Mesa car seat is a perfect match for the Cruz V2. Iаyou really liked this stroller but your baby is still small and you need a carrycot, there is an opportunity to buy one separately.
The Good:
Very compact and folds easily;
Easy to use;
Large seat suitable for tall children;
Smooth ride and no flat tires;
All-wheel suspension;
Big storage basket.
The Not So Good:
Not as lightweight as some of its competitors.
---
#7. GB Pockit Plus – Best Travel Stroller System and Best Umbrella Stroller
The GB Pockit Plus is a renewed version of the stroller which was a bit redesigned and updated. This model is appreciated by most parents as it is lightweight, super foldable, and very compact. It received an upgraded seat which has become even more comfortable due to a multi-position recline, however, it still doesn't provide a totally flat position. The neoprene fabric that was used during its production is soft and nice giving a smooth and comfortable feel.
The wheels of this stroller can swivel and be locked whenever necessary. However, it can be used off-road sometimes, it is important to keep in mind the GB Pockit Plus wasn't designed as an all-terrain stroller. But due to its maneuverability, it is quite easy to push with one hand. The space underneath is not that large – just 11 lbs – but quite okay for umbrella strollers.
The Pockit Plus is compatible with GB and Cybex baby car seat using an adapter that has to be purchased separately. Also, the stroller can be turned into a travel system, and you can also attach a carrycot for newborns.
The Good:
Extremely lightweight and compact;
Easy to fold and store;
5-point no-rethread harness;
Can be used for any child's age;
Multi-recline positions of the seat;
Perfect maneuverability.
The Not So Good:
May not suit tall people..
---
#8. Summer 3D Flip Convenience Stroller – Best for Journeys with an Infant
The Summer 3D Flip Convenience Stroller is a great choice for parents looking for a lightweight stroller with a nice design and a bunch of useful features. The cherry on the cake for this model is the seat that can face either forward or backward to ensure your baby is aware of things around them. The rear-facing provides extra support for an infant with shoulder and head padding that prevents the baby's head from wobbling or rolling. Also, it is especially easy and convenient to feed the baby and change his/her diaper when walking around.
It weighs 14 pounds, and having a durable aluminum frame, we can say it's rather light but sturdy. Certainly, there are other more lightweight options out there, but the Summer 3D Flip has impressed us. It folds up very tight and can fit any place in a small apartment or a trunk of a small vehicle, however, the folding and unfolding process is somewhat tricky. Another concern many reviewers have pointed out is the buckles on the 5-point safety harness that are pretty challenging to adjust.
The canopy is huge, wide, and adjustable. It covers front to back of the seat and can protect the baby from the sun and ensure a comfortable nap on-the-go. Parents will also find the storage basket (which is rather small though) and a cupholder useful.
The Good:
6 reclining positions and 5-point harness;
The seat fits a tall child and may switch from front-facing to rear-facing;
Compact and lightweight;
Amazing infant support;
Huge canopy;
Good seat recline.
The Not So Good:
Somewhat difficult to fold and unfold;
Buckles are difficult to adjust.
---
#9. Graco DuoGlider Double Stroller – Best Double Stroller
If you are a proud parent of two babies or will soon be, congratulations! You have found the best twin stroller! Though it may seem quite bulky and take too much space in your car, if compared to a single stroller, actually it is pretty lightweight for a duo model.
The Graco DuoGlider Double Stroller will gladly accommodate two babies or toddlers who weigh up to 40 lbs each. Kids will feel comfortable and secure in this stroller as it possesses two reclining seats with footrests and canopies. The rear seat can lie flat, and it's possible to attach a carrycot to the other one, which is especially great if you have two kids one year apart. The canopy is large enough and it can be removed so that the kid in the back seat could have some view.
You can replace both stroller seats with baby car seats when necessary, and the car seats have to be both clicked into place and additionally strapped for 100% safety. Given its characteristics, the stroller is not so easy to use: it is challenging to fold and unfold and the handle is not adjustable. However, among child's perks, we can point out a tray with cupholders and footrests for kids.
The Good:
5-point safety harness;
Multi-position cushion seats that recline;
Front swivel wheels that lock;
Big storage space;
Child's trays with cupholders and footrests;
Parent's tray with cupholders.
The Not So Good:
Access to storage blocked when fully reclined.