Reading time:
7
minutes
Oh, those sweet 3-year-olds… They are interested in everything around them which makes it pretty challenging to choose the best toys for 3-year-olds as a Christmas or birthday gift.
By this age toddlers are extremely funny, already speaking in short and full sentences and are grown up enough to express their preferences but still lack the skills to clearly say what they really want. And this lets parents and relatives brainstorming gift ideas and searching for quality toys that will make the kid entertained and occupied. Still, you'd want the toddler to develop mentally and promote learning new things and mastering new skills. That's why educational toys for 3-year-olds are one of the best choices you can ever make.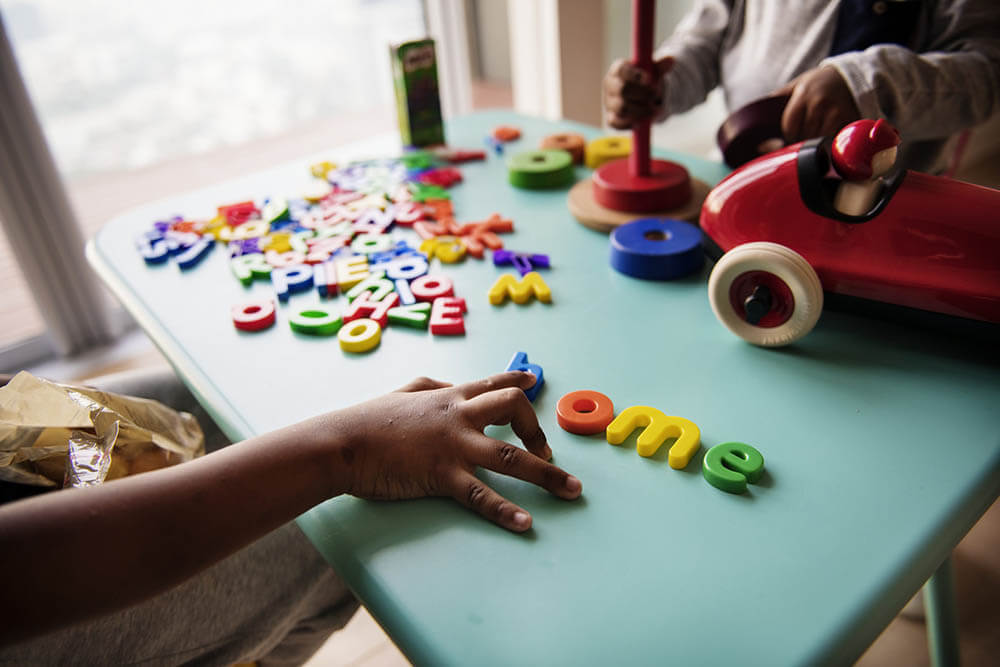 Opt for something that will encourage the toddler to create, explore, solve problems, interact, pretend play, figure out things, and move-move-move. We at Caring Parents' Choice have done all the messy work for you and picked the best toys for 3-year-olds boys and girls. Just read on and make your choice.
Take a look at our other selections:
7 Best Toys for 3-Year-Olds: Boys
1. HOMOFY Dinosaur Car Race
This marvelous race set consists of a track, a toy SUV car, and two pretty realistic dinosaurs. They also come with a double-door, two slopes, a snow-white hanging bridge, and four green palm trees. The track can be easily assembled into various types of roads. The car is battery-operated. Kids easily get involved by playing with the car racing on the track!
This toy set helps your kid develop motor skills, creativity, and eye-hand coordination. Two adorable little dinosaurs promote imaginative play. 100% ecologically friendly and safe for your kid. This set is the most popular one among all the dinosaur toys for 3-year-olds.
---
2. Take Apart Toys with Electric Drill
This yellow and grey construction trucks set is one of the most interesting gift ideas for 3-year-old boy and includes more than 40 pieces that can be transformed into three trucks. There is one car that can become a digger, cement mixer, and dump truck. The battery-operated drill comes with it. It can be turned into a remote control for a truck. A step-by-step guide will help turn the assembly into an exciting, interesting, and simple game.
What is more, it allows you to use some mother/father-son time while assembling it together. It will certainly become one of your kid's favorite toys, that is first-hand knowledge!
---
3. Original 101 Piece Educational Construction Engineering Building Blocks Set
This set consists of 101 pieces! Your kid will not be able to run out of ideas about what vehicle, animal, or just abstract shape to build with it. It helps 3-year-olds to develop their imagination, as well as motor skills and logical thinking. You can use them to practice some counting, addition, and subtraction.
The playset is perfect for a bunch of kids to play together, which is even more fun and can enhance communication skills. It comes with a box that lets you store all the pieces in good order. Also, there is a pretty long eBook containing toy designs of three different levels of difficulty.
---
4. VTech 3-in-1 Race and Learn
Your kid will definitely love this 3-in-1 toy that offers three options to play with: a jet, a motorcycle, or a car. The controller can vibrate. Kids especially like that special realistic racing sound effects, as they let their imagination run wild and pretend themselves to be in diverse locations (from a racing car to an amusement park). The volume is adjustable. 9 various courses are offered.
But this toy is meant not just to entertain and bring joy but also to educate. It helps your kid to learn the alphabet, shapes, and whatnot along with developing counting skills and coordination. Mix business with pleasure with the best learning toys for 3-year-olds!
---
5. Fisher-Price Harley-Davidson Tough Trike
This black and orange tricycle is a must for a family with a kid from three to five years old. The material is of good quality, long-lasting, and solid. There is also a hidden bay to store candy, cars or dolls and a lot of other essential stuff! This vehicle is really useful to encourage your kid to do some sports or just be active and spend more time outside in the fresh air! But as an option in case of bad weather, plastic wheels are mild enough for floors inside the house or apartment.
The trike lets your kid learn how to balance and train his muscles a bit. Moreover, such an activity is not only healthy but also 100% fun and joyful! What's important for parents, it is extremely easy to assemble.
---
6. Dinosaur Sound Book & 12 Realistic Looking Dinosaurs Figures
This set, consisting of an interactive sound book and twelve adorable dinosaurs, is a perfect choice for a kid. The book has buttons. After pressing them, the dinosaurs' names are being played. The book has marvelous eye-catching pictures; the colors are vivid. The toys are made from long-lasting materials. Its advantage is that it is multipurpose: it can be taken to the bedroom, bathroom, car to play during a long trip or anywhere else.
This learning set is the best way of showing your little kid how fun and fascinating books can be. Don't forget to take five for an imaginative play with cute figures! Isn't it an extremely exciting gift for 3-year-old boy?
---
7. Little Tikes T-Ball Set
A perfect toy to raise a future baseballer is right here! Using this toy, it will be much easier to encourage your kid to do sports in the fresh air, exercise his muscles, and practice motor skills and coordination. Also, the more people, the better. Let your kid gain some social and teamwork skills while having so much fun playing T-ball!
The set comes with five plastic tee balls and a bat. You can adjust the toy just to your kid's height. It is lightweight so it's easy to store. Thanks to a thoughtful design, it is easy to hang as well.
---
7 Best Toys for 3-Year-Olds: Girls
1. Water Doodle Mat
This interactive mat is a wonderful learning tool for a kid. It comes with six pens, a little handbook, eight drawing molds, a roller stamp set, and four drawing stencils. The pens just need some water, and that's all. The picture disappears from the mat in a couple of minutes. The set also has a great educational feature: there are alphabet pictures around the perimeter, along with animals and numbers.
What is more, there is enough space for a few kids! So enhancing social skills and enjoying the team play will be an advantage. The mat can be taken outside, too. It is easy to store as you can fold it a couple of times.
---
2. Foxprint Princess Castle Play Tent
This adorable pink tent is one of those great 3-year-old girl birthday gift ideas. It looks perfect both inside and outside and promotes imaginative play while used in the playroom and actually comes in handy during camping. Your kid will have hundreds of variations of what to play: one can play home, or pretend she's on a special mission in the Alps, or that she's a spy hiding in a secret place in the woods, and whatnot.
The poles come with it; nothing else is needed. The stars on the tent gleam at night. The tent is easy to clean, as well as easy to store, as it is flat when folded.
---
3. Melissa and Doug Scoop and Serve Ice Cream Counter
Looking for the best gift for 3-year-old girl? One can't think of a better toy for mother-daughter time. The ice cream counter can be used not only as a part of an imaginative shop but also in the kitchen, while you are cooking real dinner. The counter is transportable and easy to carry as a basket.
Eight ice cream scoops with a very realistic scooper, two cones, six toppings, tongs, a cup, and a spoon, a menu and some U.S. bills come with it. Playing with the set is more exciting in pairs or even in groups, so interacting with playmates will definitely improve social skills.
---
4. Allek Kick Scooter B02
This cute scooter will make your kid play outside all day long! In case of bad weather, the scooter can be used inside the house, as it is good enough for a wooden floor. Made from long-lasting material, it can also adjust according to the kid's height. LED wheels do not need batteries as they get powered while they spin.
The vehicle is sensitive to body leanings, so it's another way to control the scooter. This scooter will help your little girl learn how to balance and exercise her muscles, as well as encourage her to do some sports.
---
5. My First Crayola Touch Lights
Your girl will definitely love this doodle board! It can play six different songs, with twelve light colors available. It is easy to carry, so this toy will become a solution in case you need to entertain a kid on a long trip or anywhere else. The tablet is battery-powered. Its gel covering makes it perfect for drawing with a finger, as it leaves no mess after.
Let your kid get creative and develop her eye-hand coordination. This toy also can be used to learn some letters, numbers, shapes, and whatnot as you can draw practically everything on it. What is important, the board is 100% safe even if there are infants around.
---
6. VTech Touch and Learn Activity Desk Deluxe
This interactive desk is a combination of various kinds of learning activities. Five activity pages, a light-up display that shows numbers, letters, and shapes, one hundred words included. The desk is easily transformed into a chalkboard or an easel in a few seconds. Comes with a stool. There is also a bay for some pens, pencils, brushes, etc.
The set includes a pretend phone and a music player that plays some hilarious songs. Twenty tunes in total. There is also a function of tracking the learning improvement. If you want even more extra opportunities, you can purchase one or a couple of expansion packs.
---
7. MOKOQI Star Projector Night Lights for Kids with Timer
This projector will help you put your kid to sleep. It creates a special magical atmosphere of a starry night in a child's room. Also, it comes in handy in case your kid is afraid of darkness and can't sleep well alone. The time is optional: you can set it from five minutes to more than half an hour. After that, it turns off automatically.
The pattern can move and change the color, depending on your settings. The flashing mode is also available. The projector is lightweight and small enough so that it is comfortable to carry with you. For charging, you can either plug it in or use some batteries.
---
Final Words
The best toys for 3-year-olds have to offer kids lots of opportunities to explore and develop, engage in imaginative play, promote communication, master fine motor skills, and so much more. Choose wisely and let your little one enjoy the best and most interesting toy ever!