Reading time:
6
minutes
Building blocks are one of the most beloved toys for kids, regardless of their age. Toddlers, as a rule, are pretty much interested in such toys and can benefit from them a lot. How? Playing with these sets contributes to improving motor skills, eye-hand coordination, creativity, developing imagination and accuracy, etc.
Best building blocks are special because kids never get bored with them as they satisfy a practically vital need – they provide an opportunity for kids to build and create something on their own. Which means there are countless variations of how to play.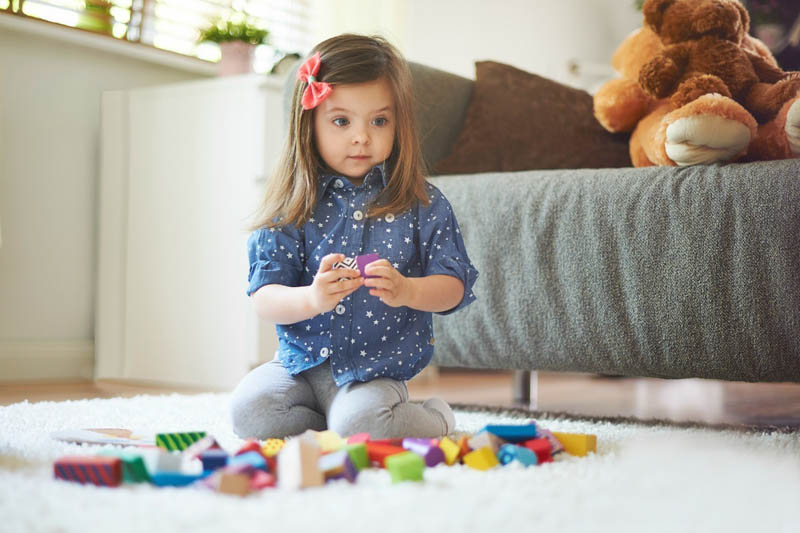 Why Are Building Blocks Beneficial for Toddlers?
Playing with building blocks has always been a favorite pastime among children of toddler-to-preschooler age. Isn't it great to create things and develop imagination and creative thinking with this interesting educational toy? However, despite all the fun, building blocks have much more benefits that may surprise even the most experienced parents.
Spatial Awareness
This is a vital and fundamental skill toddlers have to develop before starting to understand how object work. It requires the knowledge of space, directions, forms, places, and movement. To introduce this concept to your toddler, you can just sit together with them and build blocks.
Concentration
Concentration is an important skill which helps build perfect communication skills for your kid. When choosing and buying the best building blocks for your child, you help them learn to improve the level of concentration and develop cognitive and creative thinking.
Fine Motor Skills
They include such movements as reaching out, grasping, and moving objects, so fine motor skills are vital for toddlers to perform their day-to-day activities. Playing with building blocks, children not only strengthen their arms and fingers but also develop eye-hand coordination.
Promote Learning
When playing with building blocks, parents can make up lots of interesting extra activities and games, such as learning colors or shapes.
12 Best Building Blocks 2022 for Toddlers
1. First Builders Big Building Bag with Big Building Blocks
This set of best building blocks will be perfect for your dear baby. Eighty multicolored blocks obviously attract kids' attention and are big enough for toddlers to play with. These toys will come in handy for teaching your kid some basic skills, developing motor skills, and accuracy. They can also be used to start learning colors and advance kid's creativity and imagination.
There is an unlimited number of possible variations of what to build using these colorful blocks, so your toddler will definitely get carried away with this game for a while. Your son or daughter can play either on his/her own or together with his/her friends, parents, or relatives. Once the game is over, one can easily put the blocks in a semi-transparent bag and carry them wherever their heart desires.
---
2. Melissa & Doug Wooden Building Blocks Set
This is a cool set of one hundred (!) durable wooden pieces that will definitely become a great gift for any kid. A large variety of various shapes, such as semicircles, cones, cubes, allows building amazingly realistic castles, fortresses, city archways, and garages. Let your kid's imagination run wild in the course of a complicated but inspiring game! A kid will enjoy playing with red, blue, green, and yellow pieces while building colorful constructions from them.
---
3. Melissa & Doug Deluxe Jumbo Cardboard Blocks
These best cardboard building blocks will bring your kid a lot of joy when building houses, castles, or skyscrapers. They can even stand the weight equal to 150 pounds which creates even more ways to play. One can even use the blocks to build a stool to sit on and have a rest in the middle of a game.
The material is pretty solid. The size is large enough but the blocks still perfectly fit in a little hand, so they are easy to carry. Also, the manufacturer offers great bright colors for this product. The surface is easy to clean by simply wiping it. A wide variety of possible combinations will involve your kid in a long and exciting game.
---
4. Battat Bristle Blocks
What a set of exclusive blocks it truly is! This set of the best building blocks contains more than one hundred blocks that are multicolored so that they attract a lot of attention and make the kid choose this innovative toy instead of smartphones.
As a rule, toddlers always have endless ideas of what to build from these blocks. The bristles of the blocks interlock and allow building non-trivial houses, cars, planes, swings, and whatnot.
---
5. Infantino Sensory Press and Stay Sensory Blocks
This option also offers a unique product that your kid will definitely like. Bristle-like surfaces that interlock with each other won't leave toddlers indifferent, along with a bright vivid color palette.
What is important, kids usually like these blocks because they can remain in a fixed position when building a tower, for instance, while other ordinary blocks fall apart after you blow or slightly touch them. This set of best building blocks will help your kid develop their motor skills, too.
---
6. B. Toys – One Two Squeeze Baby Blocks
Ten soft building blocks of excellent quality will engage any kid and bring numerous ideas of what to build. Build a tower or a pyramid – it's up to you! These blocks may come in handy when teaching your baby numbers, as well as colors, shapes, or even animals, and turn the process of learning into a joyful and effortless experience.
This set of best building blocks comes with a recyclable bag which makes them easy to carry. You may take it either outside or along with you to the car to play on the long trip. These squeeze blocks will be a great gift for many little ones, as it is absolutely safe to squeeze and even chew them.
---
7. Jumbo Blocks – Beginner Set
The best building blocks of such a big size will be totally suitable for toddlers. Besides, they are vivid and colorful so they can be taken outside without the risk of losing them. The surface is smooth enough to wipe it easily after playing in the yard. You may purchase these blocks to help your kid develop eye-hand coordination through a game.
---
8. SainSmart Jr. Wooden ABC Blocks
These wooden cubes have not only letters but also numbers and symbols on them so that they are a suitable tool for teaching your kid the alphabet and other basic essential things and bring them a lot of joy through a game. The blocks are made from solid 100% natural material. They come with a nice bag for storage, and you can carry the blocks wherever you want.
---
9. SoftZone Climb and Crawl Activity Play Set
This set of the best building blocks for toddlers has won the hearts of numerous parents and their kids. Let your kid play with this developmental toy and have fun either on their own or with friends! Soft and durable material of high quality is guaranteed, which also makes the set safe and comfortable to crawl on. The toys can also be used to teach your kid different shapes and geometrical figures.
---
10. Melissa & Doug Deluxe Wooden ABC/123 Blocks Set
Here we have more than 120 blocks! They have letters on them, along with numbers and symbols, which gives an opportunity to use them for learning the alphabet. However, the learning process will be as easy and pleasant as possible. The blocks are made from durable wood, and parents are usually surprised by the high quality of the product.
---
11. Mega Bloks First Builders Deluxe Building Bag
This enormous set of best building blocks includes 150 (!) pieces that will become a great birthday or Christmas present. These blocks allow a large group of friends to play together and build some walls, fortresses, garages, skyscrapers, and whatnot. Also, a bag comes with it, which makes it extremely easy to clean everything up after an exciting playtime.
---
12. Galt Toys Soft Blocks
Last but not the least, this set of toys will help wherever you need to distract or calm down your kid: in the car, during a walk with a stroller in the park, etc. Six soft blocks that can be squeezed, chewed and folded offer a safe and simple option for parents who want to entertain their kid. The blocks have various pictures on them so that they perform some educational function too and may be used as a tool for these purposes. After an engaging game somewhere outside you just throw them in the washing machine and that's it!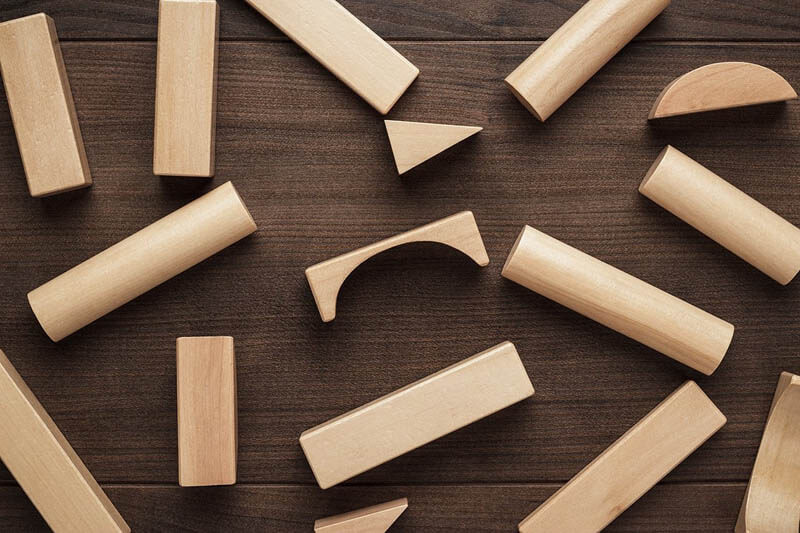 Final Words
Although building blocks aren't the first toddlers' or preschoolers' toys, they can definitely be called the most demanding, educational, and developmental as the impact they have on children's development may last a lifetime. Just playing with blocks and building things, kids learn shapes, numbers, sizes, and colors and improve their creativity, cognition, motor development, and get lots of other vital skills.