Reading time:
4
minutes
Self-care and hygiene are essential to be taught from early childhood. In particular, the key to a Hollywood smile is not dozens of appointments with your dentist, but proper care. It is much easier to teach your kids to take good care of their teeth if they are already doing it ever since they can remember. With the best toothbrush for a baby, you won't struggle to explain to your toddler why they should brush their teeth every morning and evening – that would be a usual routine.
Your baby will probably get their first temporary tooth before they turn 1 year old. Commemorate this new stage of growing up by buying the first toothbrush! Deciduous teeth tend to be sensitive so that they get decayed soon. That's why one shouldn't put off such an important purchase.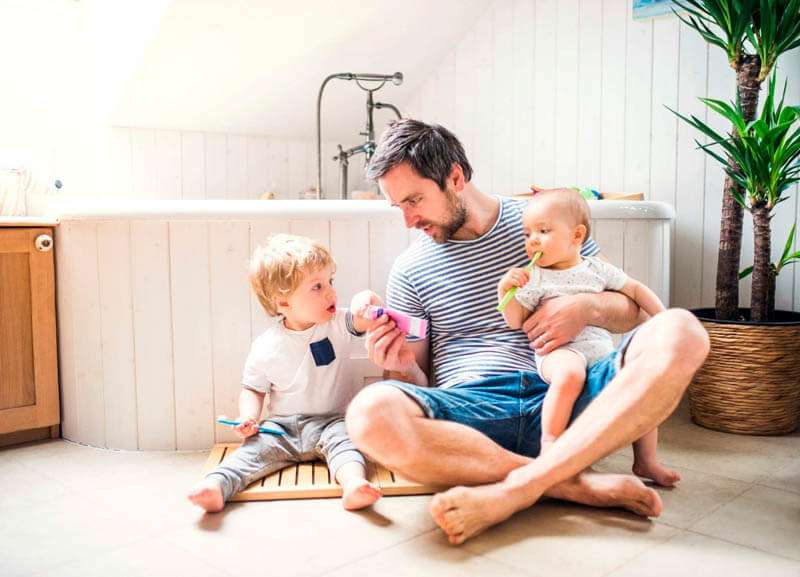 Before choosing a proper toothbrush, look through a whole variety of toothbrush types:
Infant toothbrush. It is a small tender brush. It requires a bit of toothpaste to make temporary teeth clean;
Teether brush eases teething discomfort and brushes kid's teeth without toothpaste at the same time. A kid should just 'chew' it, and it does all the work itself;
Infant gum toothbrush can be used even before your baby has got their first teeth. It wipes the gums clean, and toothpaste isn't necessary;
Toddler toothbrushes were created for kids to brush teeth on their own. But first parents need to teach them and demonstrate how to hold and use it a couple of times. Such a toothbrush requires toothpaste;
Electric toothbrush for infants/toddlers is a relatively recent invention but it is quite efficient. It works the same way as ordinary electric brushes do. You need just to move the brush all over the teeth.
How to Choose the Best Toothbrush for Baby?
There are some important factors you need to bear in mind while choosing the best toothbrush:
Bear in mind that most manufacturers mention the age this product is suitable for on the packaging. Do not ignore it as it can narrow down your search and save your time;
A brush has to be made from a high-quality material that doesn't include phthalate esters or BPA;
A toothbrush should be small enough. Remember it will be used in a tiny baby's mouth. It should not bring any discomfort;
The bristles have to be gentle not to damage the kid's vulnerable gums;
Do not squeeze a lot of toothpaste. Its amount should be equal in size to a rice grain;
Considering toothpaste, it should not contain any artificial colors and flavors;
Infants' teeth need to be taken care of twice a day: in the morning and evening;
Do not use the same toothbrush if it is older than twelve weeks. If you notice the toothbrush is becoming shabby, you'd better get rid of it at once.
Best Toothbrushes for Infants and Toddlers
Are you still not sure what exactly you want? Check out this list of top infant and toddler products to brush their teeth and choose the best toothbrush for your child:
This adorable toothbrush is shaped like a giraffe so it always wins the hearts of playful children. Just imagine how fun it would be to brush their teeth with a little giraffe figure! Pure pleasure, for sure. It can stand on 4 legs. Soft bristles, perfect for babies. No BPA contained.
This charming banana toothbrush with soft silicone bristles is an ideal choice to encourage your kid's interest to brushing their teeth. It can be cleaned in a dishwasher. No BPA contained.
This pack of six toothbrushes comes with a ladybug-shaped holder. Thoughtful design: a wide handle prevents choking. This handle may also be used as a gum brush for infants. No phthalate esters or BPA contained.
This pack consists of two high-quality silicone toothbrushes that have a well-thought design and ward off any risk of choking. Thanks to a suction pad, the toothbrush can be put in a standing position. It can be safely cleaned in a dishwasher machine safely. No phthalate esters or BPA contained.
Using this bright silicone finger toothbrush brings so much joy to toddlers! It comes with a toothbrush holder. Doesn't require toothpaste. It is a good remedy for teething pain, as the massaging effect eases the discomfort through applying pressure. No Bisphenol A contained.
This pack consists of three gentle silicone finger brushes that can be used in two ways: either as a toothbrush (using bristles on the one side) or as a tongue brush (using the other side). It relieves teething pain and comes with three cases. No BPA contained.
This crocodile-shaped toothbrush is so much loved by kids! Thanks to its perfect sizing, it fits in both infants' and toddlers' mouths and does not cause any discomfort. Gentle but durable bristles ensure perfect cleaning for the next three months. The suction pad allows you to store it anywhere you wish. No BPA contained.
This toothbrush comes with an additional finger brush, and it is well-designed: a special handle prevents your kid from swallowing or choking and the brush head is perfect to clean hard-to-reach places. No phthalate esters or BPA contained.
These six toothbrushes are decorated with faces of cartoon characters that kids cannot resist. A tiny brush head with tender bristles will ensure perfect cleaning. The toothbrush is meant to be comfortable in usage and not to slip off the hand accidentally. No BPA contained.