Reading time:
7
minutes
Although cloth diapering remains somewhat unpopular, having increased by 6 percent since 2013, it is nonetheless a worthy alternative. No, it's not because Millennial parents are deeply invested in the satisfaction of handling baby poopies, but because contemporary parents are committed to environmental and social responsibilities while opting for the best cloth diapers for newborns. It seems like a very obvious decision, given that it will save money as well as is good for the environment.
While it may be difficult to go green as new parents, for some people, it is a must. In general, parents choose disposable diapers because of their simplicity and ease of use, as is pointed out in a Harris Interactive survey. Although cloth diapering isn't for everyone, it is surely not as hard as it may appear to be. If you're just starting out with cloth diapers, you'll need some basic instructions on how to get started. Furthermore, pinpointing the best cloth diapers for newborns and you as a parent is a crucial step.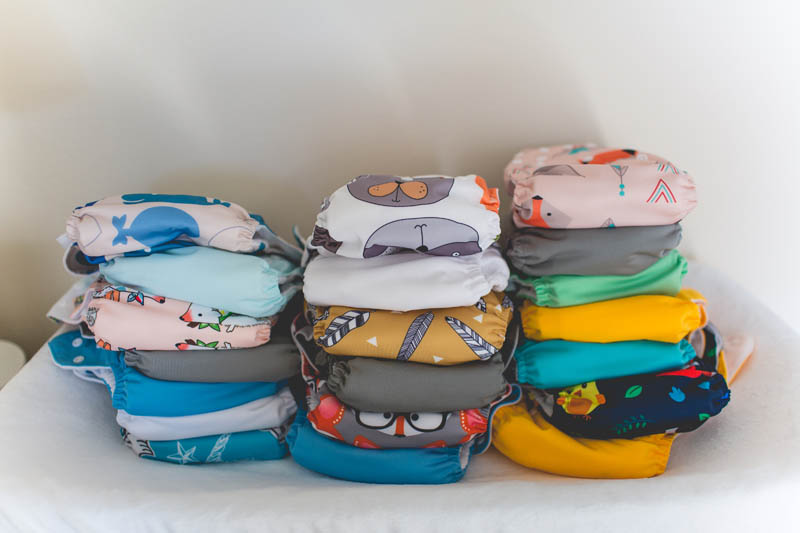 How to Select the Best Cloth Diapers for Newborns
There are a ton of cloth diapering alternatives (literally!) to consider, so we've made the process easier by narrowing down our selections to the four most common types of cloth diapers:
All-in-one cloth diapers. One of the simplest options available is the all-in-one or AIO. If you're going to ask relatives or babysitters to assist with diaper changes, this is the option to get. An absorbent pad is directly stitched to a waterproof cover that has no fasteners. To dispose of soiled AIOs, you need to remove the entire diaper and put it in the laundry. There is a significant price hike (from $15 to $25) but you pay it for the additional time-saving aspects that come with this particular kind of diaper. AIOs either come in a single size or in a variety of sizes.
All-in-two diaper, or hybrid. These are easy to use and comparable to AIOs, except for the fact they come with a washable or disposable insert. Parents are glad to have more choices with disposable pads since they can be cleaned or thrown away. Additionally, hybrids may handle many washings. These diapers come in various sizes and are also available in one-size-fits-all varieties. (Their price is somewhat between $20 and $25.)
Pocket diapers. These consist of an attached waterproof cover, the lining that stays dry, and a pocket to hold a separate absorbent pad. (Depending on the level of absorbency your baby needs, you can switch between pads.) When the baby's diaper is dirty, you take out the insert and wash it together with the dirty diaper. One-size choices are available, as well as options that cater to a range of sizes. However, some parents claim that these diapers are on the larger side. (Prices ranging between $7 and $20.)
Prefold diapers. These are quite basic. Just some folded cotton cloth that looks like it came from your grandma's epoch. To keep the diaper secured, a cover is put on top of it. When your baby has peed and pooped, just remove the prefold and use a new one. The cover is reused just as it was. This is the least costly option (about $1 to $3 per diaper) but it will need some learning curve and will force you to constantly change the size of the diaper as your baby grows.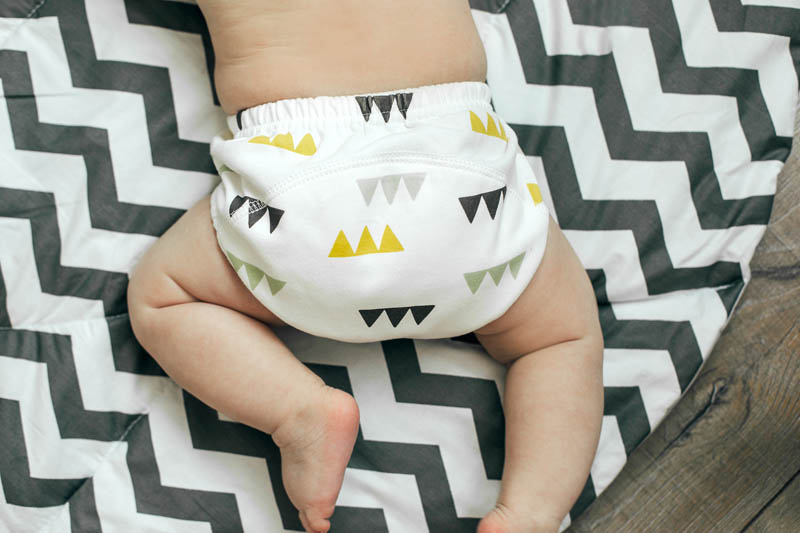 ---
5 Best Cloth Diapers for Newborns Reviewed
Now that you have learned the basics, it's high time you really went into the important details of which cloth diapers exactly are ideal for you and the little ones who will be wearing them.
#1. Gerber Birdseye 3-Ply Prefold White Cloth Diapers – Best Organic Cloth Diapers for Newborns
For those who want natural goods for their infants, Gerber Birdseye 3-Ply Prefold White Cloth Diapers are an excellent choice. They are made from 100% cotton with additional layers, which are located in the middle – just where they are needed most. These diapers are customized to fit your baby's skin type, allowing for maximum absorption for the fullest comfort. The fabric is soft, easy to wash, and dries faster, which gives new moms more time to do other things. They may also serve as a burp cloth, wiper, dusting cloth, and more. Numerous leaks during the day and night will finally end with this pack of 10 cloth diapers.
The Good:
Lightweight;
Machine-washable;
Absorb instantly;
Have recyclable packaging made from 100% post-consumer waste.
The Not So Good:
There's a possibility of leaks without the waterproof cover;
To preserve their whiteness, you may need to soak them in non-chlorine bleach.
---
#2. OsoCozy Unbleached Pre-Folded Cloth Diapers – Best Cloth Diapers for Newborns in Terms of Comfort
If your baby has sensitive skin, you can easily choose a comfy cloth diaper for him or her. The woven gauze utilizing Indian cotton makes OsoCozy Unbleached Pre-Folded Cloth Diapers excellent and comfortable. As your child develops, you can trifold the diapers into baby pockets to add another layer for safety. These cloth diapers are an excellent choice for parents, as they last a long time and are 100% natural. However, remember that they have to be washed before wearing to get rid of natural cotton oils.
The Good:
Great absorption;
Durable;
Lint-free weave;
Eight inner and four outer layers.
---
#3. Kanga Care Lil Joey Cloth Diaper – Best Cloth Diapers for Newborns with Sensitive Skin
These are the best cloth diapers for newborns with sensitive skin! The unique technology of gusset leak protection makes them hypoallergenic. The snap-down front guarantees sensitive cord care so you may have a cleaner and more comfortable infant throughout the first days of his or her life. This two-diaper set is ideal for babies that weigh 4 to 12 pounds as well as preemies.
The Good:
Soft fabric;
TPU water-resistant polyester;
Has a number of interesting colors and designs to choose from;
Two inner gussets with four layers of microfiber.
The Not So Good:
Might be a bit small or tight for some infants.
---
#4. Best Bottom Shell-Snap Cloth Diaper – Best Cloth Diapers for Newborns' Nighttime Use
These are one of the best diapers for nighttime use designed to hold in a baby's pee and poo. Its shell-based waterproof technology and hybrid clothing help to minimize leaks, which makes it ideal for extended periods of use. The double PUL layer and snap-lock mechanism make it a perfect choice for use all day long. This Best Bottom Shell-Snap Cloth Diaper has a great absorbent insert since it has two products in one box. It is now possible to get ready for vacation or attend a party with your kid, knowing that there will be no blowout.
The Good:
Trim fitting;
YKK snaps in the front;
No bleach;
Machine-washable;
Doesn't contain any softeners or additives.
---
#5. Bambino Mio Miosolo All-in-One Cloth Diaper – Best One-Size Cloth Diapers
We recommend that you have a reusable diaper that can grow with your baby. The Bambino Mio Miosolo Cloth Nappy is fashionable, incredibly soft, and more comfortable than other similar brands. The flexible fabric allows your baby to easily slip into it, and his/her moves won't be restrained. The diaper's core is concealed to prevent any embarrassing leaks, keeping wetness away and also adding to the effectiveness of the diaper, which remains dry, keeping your baby's sensitive skin protected. To avoid any damage, don't use chlorine bleach, iron, or dry clean these diapers. Also, don't use a fabric softener when you wash them.
The Good:
Tuck-in pocket;
Many unique designs;
Water-resistant fabric from the outside;
Fold-back laundry tab;
Of one size;
Requires a booster pad for better performance.
The Not So Good:
Takes a while to dry after washing;
May be a bit loose for small babies.
---
What Makes Cloth Diapers the Best Choice?
New parents and those in search of better diaper alternatives for their children should consider cloth diapers as a feasible option. If you think that things are complex or impossible, contemporary technology has the capacity to make things more manageable and practical for you. In this section, you'll find out why you should make cloth diapers your number one option:
Cloth diapers are the most ecological and long-term diapers. It would be worthwhile to choose them for this reason. Disposable plastic materials create tons of garbage that's unable to be decomposed and fill landfills. By making sure the environment is not damaged, you are saving up on resources and protecting rivers.
The long-term effects of disposables on newborns include everything from diaper rash and endocrine disturbance to the risk of cancer. Many disposable diapers contain dangerous chemicals that have some health impact over time.
You can use them several times. They'll be like new when you wash them.
Using the best cloth diapers for newborns, you'll save a lot of money. These diapers are extremely durable and may last years. You may even sell them when there's no need for them.
Later, you may use them for household chores or as craft supplies.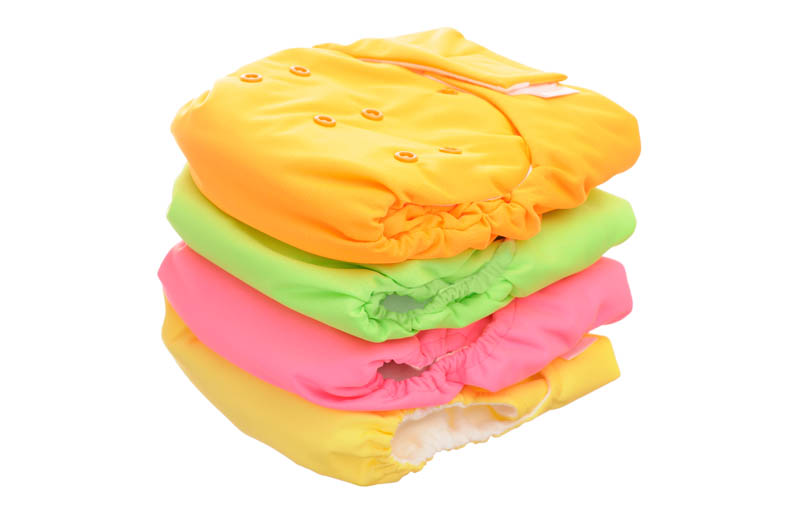 How to Choose the Best Cloth Diapers for Newborns?
You shouldn't be confused by all the varieties of cloth diapers out there and the way they work. There is no one proper option for everybody so you can pick different options depending on what you need and when. Among the factors which contribute to changing diaper requirements are the following:
Situation. Using an all-in-one cloth diaper can let you leave your baby with grandparents for a while, and a prefold insert and its waterproof cover provide the best solution for everyday wear while at home. For a day out, choose a leak-proof and waterproof diaper. There are certain parents who choose a diaper that allows them to get rid of the insert when they're in a car for a long period of time.
Baby skin type. Your infant's skin is extremely delicate and gentle. It is better to use hypoallergenic and free from chemicals diapers as you won't welcome irritations or skin allergies.
Diaper size. When it comes to size, cloth diapers come in different shapes and sizes. Even if certain diapers may be used on many babies, it is still a good idea to ensure that a good fit is obtained to prevent leaks. If you've just had a baby, a diaper of a small size is a good option. Choosing the correct size of diapers is especially important for newborns because each infant's build is different. And the most crucial thing is that babies grow up quickly. You won't have to keep buying a new diaper every month since you can change the cloth diapers as your baby grows.
Final Words
For your ease, we have made a list of the best cloth diapers for newborns. When deciding the type of cloth diaper to buy, be sure to consider your baby's skin type, size, and the necessity of that diaper type at the time. It takes parents a couple of weeks to discover which diaper works best for them and their baby, and there's no rule which option is better. Cloth diapers may be used for years and even save lots of money as you may even utilize them for other purposes when your baby grows up. So the choice is yours.